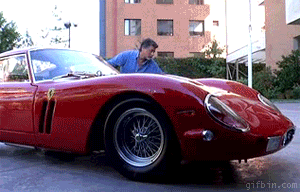 So far we've cleaned up our PC and smartphone, leaving us ready to sort out our website & server.  I don't know about you, but my website and server become a repository for all sorts of things.  Sometimes I'll use them to transfer files between people, test out new website designs, and even to try out different configurations for site structures.  Inevitably I find something I like, roll it out on my main site, and then forget to go back and clean up the test files.   Later on, when I want to test something new, I find the old stuff and typically ignore it with the mindset of "cleaning it up later."  Not today, today we're going to get in there and clean out what we don't need.
Your Website and Server - Some people manage their sites and servers perfectly.  I'm not one of those people.  As I said above, I like testing and playing with things in a test environment.  As such, quite frequently I end up with pages of test code or entire test sites that linger.  Well, this is the perfect time of year to go through and get rid of stuff you're not using!
Clean out your subdomains - Instead of making changes to a live site, I have been known to use a subdomain as a temporary test site.  The ease of keeping files within the same domain makes this a go-to resource for me.  Unfortunately, when I'm done, I leave those subdomains alone.  I always intend to go back and clean them up, but rarely do.  So, go in via FTP (I prefer FileZilla) and download copies of your files, then delete those unnecessary files from your site.  Of course, if you are using the subdomain for hosting a site, please keep the files, we wouldn't want to delete something in use.
Review media files - When I'm working with my site, I'll upload multiple media files for each post or page, just to test out how they look or because I may not be 100% certain as to what the finished post will be about.  Just like with the subdomains, I have every intention of going back and cleaning out the files I don't use – but never do.  Here's your change – use this holiday season to remove those files that didn't quite make it.  Videos, pictures, sounds, etc., all eat up space.  Free that server up.  
Back up your site - I cannot stress making back up copies of your site enough.  Do it monthly, weekly, etc., just DO IT!  As 2013 comes to a close, now is a great time to do a comprehensive backup.  I have numerous sites on my server and before the end of the year I will go through and make a complete backup copy of each site.  I will also make a comprehensive backup of my server.  Fortunately, my server software, Plesk, has a built in back up system that makes it very easy to do.  Contact your host and see if they have a backup option at the server level if you don't see one on your Server admin panel.  If you have a more sophisticated software package on your server, or know your coding, you can set up regular back ups that can be saved to a repository on a different server.  This is a great idea and can really save your bacon in case of an emergency.
Update your plugins - I'm a big fan of WordPress and use it quite a bit.  However, I am a bit lax on keeping up with all of the updates that come along.  Take a few minutes and get everything updated.  Be sure you make a backup of your site and database (I like the WordPress Database Backup plugin) before you run your update process.  This is a super easy way to make sure your site is up to date and completely optimized.
These are just a few of the ways you can update and clean up your server & website.  Got tips?  Leave them in the comments!  Very soon I'll start posting my suggestions for starting the year off right with your websites.  Look for that series to start in the next few days!
What do you think? Join the discussion...